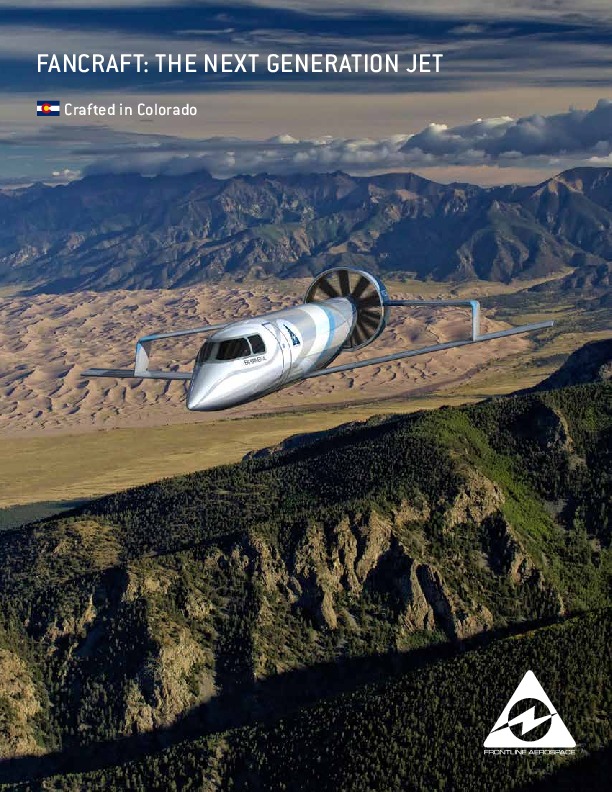 London, UK, Corporate Jet Investors Conference—January 28th, 2018:   Frontline Aerospace has introduced a new clean sheet mid-sized green business jet that doubles traditional range. Business jets deliver efficiency for executives every day enabling major results for customers, vendors and shareholders.  However, none until SkyFan™ have solved the long-standing challenges of business jets—namely dramatic range and productivity improvements, in fuel efficiency, noise reduction and landing zone flexibility.  SkyFan™ is a revolutionary midsized business jet.  It cuts fuel consumption by over 50% for comparably-sized jets; it also achieves short take-off and landing (STOL). SkyFan's unique diamond-box-wing configuration with ducted counter-rotating pusher fan and mature turboshaft engines create the core of this revolutionary new business jet.
"What really makes this clean-sheet design unique is the intercontinental range (4,100 nm at full eight passenger payload, M 0.78 at FL 400) or 5,200 nm at four passengers; a thrust to weight ratio of nearly 1 to 1 at takeoff enabled by the centerline ducted fan with a 50 to 1 bypass ratio and fuel costs of a turboprop, about $1 per nautical mile." Said Ryan Wood, CEO of Frontline Aerospace.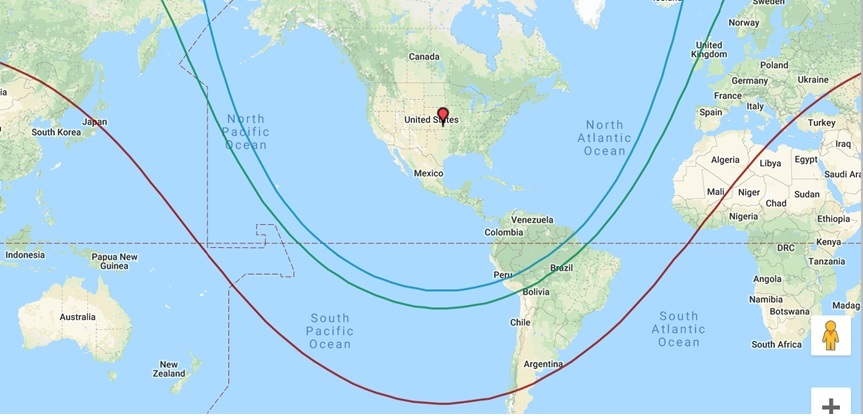 "Skeptics will say how did you do that? The secret is the centerline counter-rotating ducted fan with a 50 to 1 bypass ratio where typical business jets have a <5 to 1 bypass ratio. This enables a propulsive efficiency of >90% and when driven by off-the-shelf turboshafts with excellent specific fuel consumption the aircraft becomes amazing. For example, with twin engines and shaft horsepower of 3,600 at sea level a well-designed ducted fan will convert every horsepower into three pounds of thrust—that's a thrust to weight ratio of 0.86 for SkyFan™ (at full load) exceeding comparable business jets by a factor of two!" Said Paul Gelhausen, CEO of the Virginia based AVID LLC, experts in ducted fan design.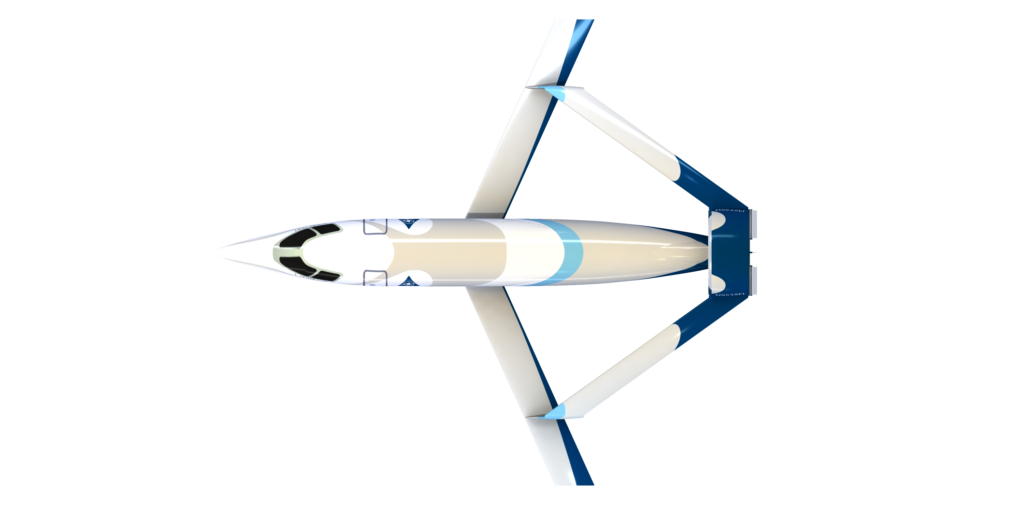 "Another innovation in the SkyFan design is the drag reduction afforded by the centerline ducted fan, which ingests and energizes the fuselage boundary layer, reducing the base drag.  The diamond box wing allows a very a structurally sound, light weight, high aspect ratio wing, which also reduces drag and improves efficiency."  said Darold Cummings, aircraft configuration subject matter expert and retired Boeing Technical Fellow.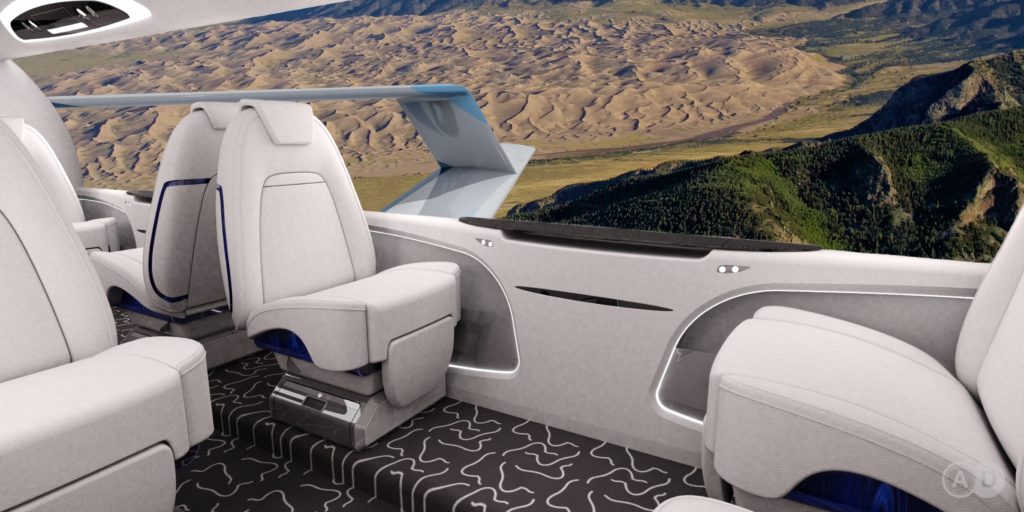 "The interior has innovations too, specifically our panoramic window—PanDow™ which lowers fuselage weight and improves structural integrity because there are no traditional windows, just a cabin length panoramic window of the outside. Or for that matter any images you want. With a window resolution of 280 pixels per inch it is as good as many smartphones. The stand up interior is 74 inches, width at 86 inches with a similar layout to the Learjet 75." Said CEO Wood
"What surprised me was the combination of innovations, from range, to STOL, to interior and noise reduction. Because of the ducted fan approach, it also addresses the growing concern of noise abatement. The PanDow™ view is very impressive innovation from a passenger's perspective as well. With the engines in the fuselage and the fan blades in a duct, noise is dramatically reduced compared to any comparable aircraft." Said Mike Chase, aviation industry analyst.
"The SkyFan design is a significant leap ahead in performance and versatility. While the market is introducing several small business jets; SkyFan is in the Super-Medium class without the Super-Medium price tag or limitations. SkyFan has the unique combination of trans-oceanic range and short field takeoff and landing airport flexibility. The cabin is also a game changer. Windows are gone; replaced by a 40,000 ft. balcony view of the world. SkyFan is ready to shake things up." Said Jay R. Snyder, Former Director of Air Force Revolutionary Planning.
"Understandably, the history of aviation is littered with innovations and great aircraft designs that never made it to certification and commercialization. We recognize this are prudently taking small steps forward in validating the design with full scale propulsion testing, then building a single aircraft for demonstration. I welcome interested parties that may want to participate to contact me directly." Said Mr. Wood.
Download the complete brochure
Preliminary Specifications Table:
| | | | | | | | |
| --- | --- | --- | --- | --- | --- | --- | --- |
| Attribute | Passenger + Crew | Full Payload Range | Cruise Mach At FL400 | TOGW | Balanced Field Length | Fuel Expense | Thrill Factor |
| Units | | Nat Miles | Knots | Kilograms | Meters | $/hour @$5/gal | Thrust/weight Full load |
| Value | 10 | 4100 | 447 (M0.8) | 5,680 | 675 | $400 | 0.86 |
About Frontline Aerospace
Frontline Aerospace, Inc., is an advanced manufacturing company focused on breakthrough aviation design, and energy efficiency technologies that increase performance, reduce emissions and fuel consumption of gas turbines. The company's IsoCool compressor and MicroFire gas turbine recuperator technologies are designed to save money and fuel, increase the payload and range of thousands of in-service helicopters, as well enhance performance in ground-based military, industrial and commercial turbine applications. We manufacture components and subsystems for aviation and ground power generation.
Visit: www.frontlineaerospace.com.