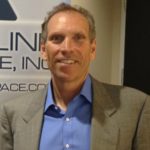 Ryan S. Wood
(CEO Frontline Aerospace)
Frontline Aerospace, Inc., was founded in 2007 by successful entrepreneur Ryan S.Wood to apply technical insights derived from his experience in the energy industry and scientific thinking from his long family legacy in aerospace. Mr. Wood is a graduate in mathematics and computer science from California Polytechnic State University and has worked in engineering management and technology marketing at INTEL Corporation, Digital Equipment Corporation and Toshiba; as well as entrepreneurship in the energy-efficiency and aerospace sectors. Mr. Wood represents a legacy of aeronautics distinction:
Dr. K. D. Wood (grandfather) taught two generations of aeronautical engineers at Cornell University, Purdue University, then principally at the University of Colorado at Boulder and is known worldwide for his comprehensive textbooks including the pioneering "Airplane Design," "Technical Aerodynamics" and "Spacecraft Design."
Schuyler "Sky" Kleinhans (grandfather) retired as Corporate Vice President of Engineering at McDonnell Douglas after decades directing design of the DC4E, B-19, DC-6, DC-7 and DC-8 (first Douglas jet). After graduating from M.I.T., he helped design the Sikorsky S40-S43 series of flying boats. He was appointed Fellow of the American Institute of Aeronautics and Astronautics.
---
Key Personnel

Lieutenant General Timothy A. Kinnan, USAF RET
(Board of Advisers)
LtGen Kinnan is Chief Executive Officer of Wallace Lighthouse Consulting Group after serving as Vice President for C4ISR at Lockheed Martin Corporation. During his 34years of military service, he served as U.S. Military Representative to the NATO Military Committee; Vice Director of Strategic Plans and Policy with the Joint Chiefs of Staff; commander of the 401st Fighter Wing and other commands. Recipient of the Risner Trophy as outstanding fighter pilot in the United States Air Force, LtGen Kinnan earned his Masters Degree in Astronautical and Aeronautical Engineering from Purdue University; Distinguished Graduate of the National War College and other military schools; and Bachelor of Science degree from the United States Air Force Academy.
---

Mr. Darold Cummings
(Board of Advisers)
Mr. Cummings has 40 years experience in aircraft design and development, product design, and education. He retired from Boeing as a Technical Fellow in 2004 and started The Center for Innovation, which focuses on presenting Creativity Workshops to industry, universities and government agencies. He holds 24 patents in a variety of fields. In addition to his experience in the United States, Mr. Cummings has worked for DASA and RFB in Germany, BAE in England, Aeromacchi and General Avia in Italy, and PRomavia in Belgium. He has also worked with the Russian aircraft design bureaus Mikoyan and Yakovlev in the United States. Mr. Cummings' last position at Boeing was as manager of the Exploratory Concepts Group within Advanced Design at Boeing's internationally recognized Phantom Works in Huntington Beach, California. He also designs, builds and operates motorcycles for which he currently holds 12 World Land Speed records, all set at Bonneville Salt Flats, Utah.
---

Mr. J. Stephen Britt,
Esq.
(Board of Advisers)
Mr. Britt is a partner at Berenzweig Leonard's dynamic business law practice, bringing corporate, technology and data security expertise to their government contracts, employment and entertainment law clientele. He represents numerous domestic and international clients in the technology, government contracting, manufacturing,professional services and online media industries. He mentors companies in both start-up and expansion phases,often serving as a senior advisor on strategic legal and business issues. His government clients include subcontractors to CACI, Raytheon, BTG/Titan, Lockheed Martin, SAIC, Pragmatics, Accenture, and Booz Allen Hamilton. Mr. Britt is former General Counsel of the Civil Aeronautics Board; Deputy General Counsel at both the U.S. Department of Energy and the U.S. Department of Housing and Urban Development. He is chair of the Northern Virginia Technology Council Security Committee and Chair of the angel investment group of the Business Alliance of George Mason University. After he received his Bachelor of Science (Cum Laude) in Business and Economics, he received his JD (Order of the Coif), both from West Virginia University.
---

Dr. Robert M. Wood
(Board of Advisers)
Dr. Wood retired from McDonnell Douglas after 43 years of service,including as director of Advanced Development Projects on the Space Station; management of the Independent Research and Development program; and direction of research into the ballistic missile defense issues of discrimination between reentry vehicles and decoys. With a Bachelors in Aeronautical Engineering from the University of Colorado and a PhD in Physics from Cornell University, Dr. Wood began his career with the V-2 rocket program at White Sands, NM. He is recognized for his contributions to advanced concepts, business and quality development at McDonnell Douglas, as well as his publications in numerous venues including the American Association for the Advancement of Science, American Institute of Aeronautics and Astronautics, American Physical Society, Society for Scientific Exploration, Sigma Chi (American Scientist) and Scientific American.
---