VTOL-Swift Tactical Aerial Resource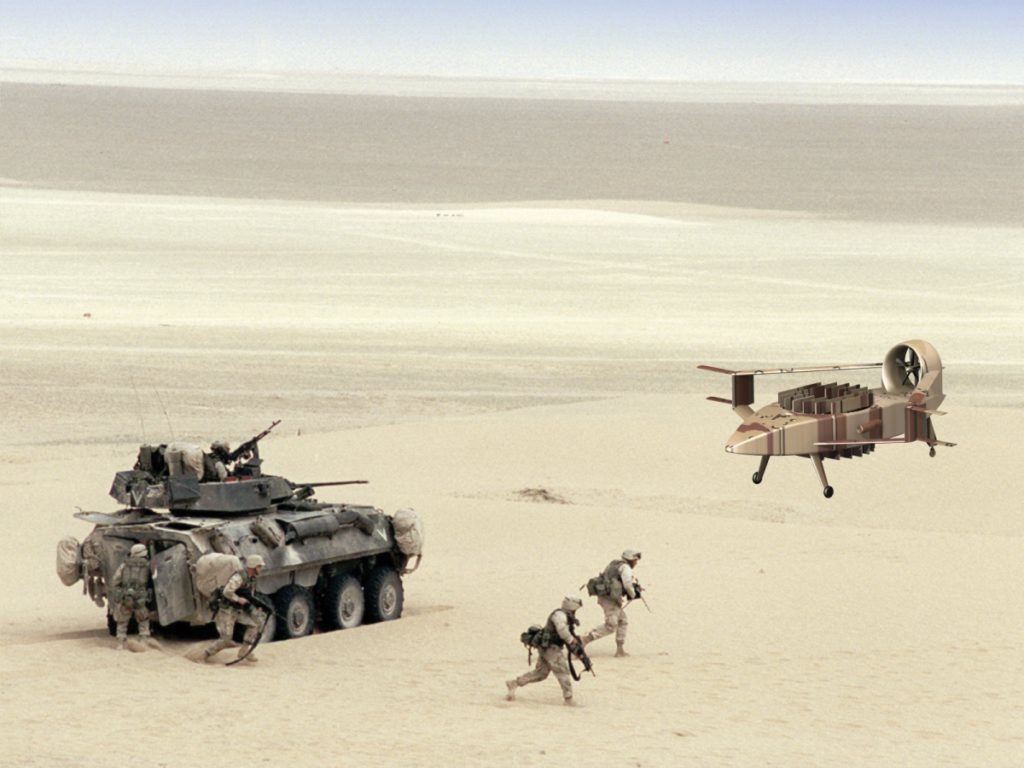 Tactical UAVs have tremendous potential to transform outcomes on the battlefield. But none until V-STAR™ has solved the longstanding challenges of providing rapid, flexible logistical support for troops in the field, while also giving commanders optional payloads for a wide range of specialized missions. Our VTOL-Swift Tactical Aerial Resource – or V-STAR™ – is the "HUMVEE of the air" and provides a breakthrough solution for front-line military logistics and related Multi-Role Endurance missions. With modular payload at the center-of-gravity, V-STAR™ provides real mission flexibility: it can carry ISTAR (intelligence / surveillance / target acquisition / reconnaissance) packages or weapons, then morph in minutes back to its primary role of providing front-line combat logistics. V-STAR™ is a unique unmanned aircraft system, combining a creative box-wing aerodynamic design with revolutionary propulsion improvements into a platform that stands alone in its ability to accomplish such missions. The V-STAR™ drone incorporates the following enabling technologies and capabilities:
V-STAR™ is a VTOL platform that uses an enclosed ducted fan for lift during takeoff. This fan duct is closed for forward flight.
Because its unique box-wing configuration provides lift during forward flight, it can travel to mission areas at up to three times the speed of a helicopter, with the efficiency of an airplane, thus increasing flexibility and operating radius.
The rotor-free design results in a significant reduction in sound levels, a key to platform and personnel survivability. It also simplifies operations and enhances safety, by reducing the amount of clear space required for landing.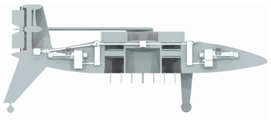 The vehicle's unique modular payload bay, located at the center of mass, allows for rapid change-out in the field––one minute providing ISR support, the next minute providing close combat support, logistical support, communications, or casualty evacuation as needed.
V-STAR's multi-engine design provides redundancy for powered flight, and operation of electrical components. V-STAR's fixed wing flight only requires a single engine, greatly enhancing efficiency over comparable rotary winged platforms.
In brief, V-STAR offers superior speed, rate of climb, reliability, endurance, and payload and mission flexibility, compared to other UAVs. For the first time, here is a UAV that truly delivers key capabilities that military forces are looking for now and will demand in the future. V-STAR provides operators with a single platform that:
Conducts VTOL flight operations
Operates 2-3 times faster than helicopters – cruise at up to 400 knots
Provides tremendous payload and mission flexibility (logistical, lethal and ISR–intelligence, surveillance and reconnaissance)
Delivers leading edge specific fuel consumption (SFC) improvements with our MicroFire recuperator and IsoCool engine technologies
Employs kneeling landing gear, allowing greater landing zone flexibility
Eliminates exposed blades, using enclosed ducted fans for efficiency and safety
Substantially improves noise stealth over helicopters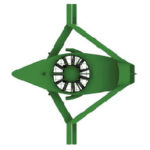 All this is accomplished without the need for technological breakthroughs: these are mature technologies integrated in a creative new way, thereby lowering costs for development, acquisition and deployment. Frontline Aerospace, Inc.'s patented V-STAR integrates advanced ducted-fan lift technology with proven and reliable Rolls-Royce Model 250 turboshaft engines to maximize the utility of the UAV at low unit and maintenance costs.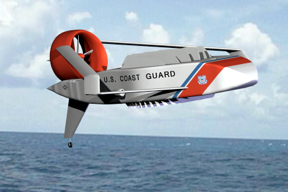 Frontline Aerospace has a powerful team of people specializing in advanced systems engineering, digital simulations, aircraft conceptual design, program management, and military concept of operations (CONOPS). We are well positioned to present a credible UAV solution for a wide range of specialized military and non-military missions including search-and-rescue, urban reconnaissance and border security.
V-STAR Developmental Milestones
Conceptual Design – October 2007
Water Tunnel Testing – January 2008
Wind Tunnel Testing – Naval Research Labs – April 2008
V-STAR Cargo 6,500 pound TOGW design for Office of Naval Research – February 2009
V-STAR design patent granted – April 2009
¼ scale design – June 2009
¼ scale prototype – July 2009
Flight testing – August 2009
Wing extensions – October 2009
Redesigned ducted pusher fan – March 2010
Flight testing – June 2010
Medium Range Maritime UAS RFP response – October 2011
V-STAR utility patent issues – March 2012
Related Video
Related Downloads