Lafayette, Colo. —December 13, 2018. The US Patent and Trademark Office recently published Frontline's patent application titled: Centrifugal Compressor Cooling (US 2018/0355887 A1). The device (IsoCool) is a replacement housing for gas turbine centripetal compressors. A typical application would be as the last stage in a mixed axial centripetal gas turbine compressor, such as a Rolls-Royce Model 250 helicopter engine. The design uses a coolant either fuel or liquid to reduce the temperature of the centripetal housing. Thereby cooling the compressed air and reducing the work required for compression. This improves power and if the coolant is fuel there is a small increase in specific fuel consumption too.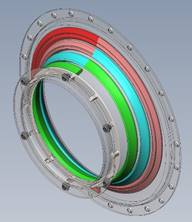 "The marketplace for this IsoCool technology is the large installed base of turboshaft engines that use centripetal compressors. Although this takes some unique design effort for each class of engine being retrofitted, the engine performance improvement is an attractive upgrade for many military drone platforms." said Wood.
About Frontline Aerospace
Frontline Aerospace, Inc., is an advanced manufacturing company focused on breakthrough energy efficiency technologies that increase the performance, reduce emissions and fuel consumption of gas turbines. The company's IsoCool compressor and MicroFire recuperator technologies are designed to save money and fuel. This increases the payload and range of thousands of in-service helicopters, as well as enhances the performance of ground-based military, industrial and commercial applications. Examples would include manufacturing, pipeline pumping and power generation.