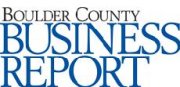 August 1, 2008 — Unmanned aircraft can hover, land like a helicopter. It's expected to have the functionality of a helicopter but be much faster, making Frontline Aerospace's "flying Humvee" the next wave of unmanned aircraft.
"It's very quick and quiet," said Ryan Wood, Frontline Aerospace Inc.'s chief executive. The private Broomfield-based company was formed in September 2007 and is in the midst of producing its VTOL (vertical takeoff and landing) Swift Tactical Aerial Resource in addition to working on its other major product, the MicroFire. Dubbed the V-STAR, or flying Humvee, the tactical resource uses Frontline's MicroFire technology to increase its fuel efficiency by mixing hot exhaust air with compressed air before combustion. By doing that, the engine requires less fuel to heat the cooler, fresh air before it's fired.
Though still in the design phase, the "flying Humvee," as Wood calls it, is primarily designed to carry supplies to combat troops in war zones, though it could be used for humanitarian missions, such as carrying construction material through mountainous areas without roads.

VSTAR-in-7-13-Sept-2010-Air-Intl